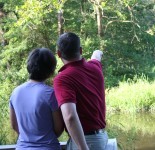 If you are looking to spend some quality time outdoors, you are coming to the right place! From hiking and driving trails to children's activities, the watershed houses something for everyone. When you aren't paddling the river, be sure to check out some of these recreational and hunting opportunities!
Maryland
Caroline County
Please note – only one town in Caroline County lies within the Nanticoke Watershed. However, additional nearby sites have been included here for your convenience.
Recreational Opportunities
Hunting and Fishing
Caroline County Shooting Preserve – Enjoy a guided hunt on a 700 acre preserve, complete with clubhouse. Quail, Chuckar, Pheasant and Duck packages are available with dogs and guides for rent. Hunters can bring their own dogs as kennels are available too. Bird cleaning services are offered upon request. 

Schrader's Bridgetown Manor Hunting and Sporting Clays – Schrader's offers 25,000 acres of prime hunting grounds for waterfowl, deer, turkey, doves and upland birds. Sport fishing is also available on local ponds and tributaries. A 24 station sporting clays course with five-stand and wobble trap is open all year long with certified instructors on staff. Rentals available. Stately 11 room bed & breakfast available year round.
Supplies and Equipment Rentals
Northern Choptank Adventures – Northern Choptank Adventures is a full-service kayak outfitter that bases out of the historic Riverside Country Inn in Greensboro, Maryland.  They offer both single and tandem kayaks and can provide shuttle service as well.  
Denton Ace Hardware – Denton Ace Hardware rents and sells kayaks, paddles, PFD's, and all the equipment you need to get out on the water.  
For more information about recreational and hunting opportunities in Caroline County, please visit the Tour Caroline County website.
Dorchester County
Family Fun
Recreational Opportunities
Hunting and Fishing
Supplies and Equipment Rentals
For more information about visiting Dorchester County, including additional recreational and hunting opportunities, please visit the Tour Dorchester County website. 
Wicomico County
Family Fun
Recreational Opportunities
Cherry Beach Park – Cherry Beach Park is located along the upper Nanticoke River in Sharptown, about 15 minutes from Salisbury. The heavily used recreation facility provides Sharptown and greater Wicomico County residents with a boat ramp, a fishing pier, a large pavilion with picnic tables and a beach area. Updated in 2009 as part of the park's Master Plan, Cherry Beach also now has an expanded parking lot, a new Gametime Playground for school age children, a revitalized beach and shoreline, and a walking path connecting it to neighboring Cope Bennett Park. With all it has to offer, Cherry Beach is a great place for families to spend a day enjoying the beauty of the Nanticoke.
Chesapeake Tours & Promotions – Chesapeake Tours and Promotions can custom design your Chesapeake itinerary saving you time and taking the worry out of making those travel plans. Designed by experienced travel planners native to the region, you can be certain your 2-night, 3-night and longer custom itinerary will not only take you to the heart of Chesapeake country, but also to the lesser known treasures of the area.
Cove Road Beach – Cove Road Beach is the perfect beach spot for kids and sunbathers alike, and the quick, scenic drive down Nanticoke Road beats sitting in Route 50 beach traffic any day. The beach area is long and narrow with tall beach grass separating it from the parking lot and shaded picnic tables. From the warm sand, the view of the Nanticoke River is beautiful. The water is calm and shallow, perfect for young children to swim in without the worry of being knocked over by an ocean wave. Plus, it's a good fishing and crabbing spot in the quiet of the early morning or evening hours. Parking availability and space is limited in capacity. Early arrival is recommended, as spaces fills quickly.
Pemberton Park – Pemberton Historical Park is a gorgeous, 260 acre expanse of nature and wildlife, incredibly located just minutes from Route 50 along Pemberton Drive. Created by the Wicomico County Department of Recreation, Parks and Tourism in the 1980's, the park surrounds Pemberton Hall which is a plantation home built in 1741 and rich in Eastern Shore history. Appropriately, the park's mission is to provide a setting that blends together both history and the natural environment. This unique combination makes the park suitable for all types of visitors. Amenities include a nature trail system with 7 unique trails ranging from .2 to 1.1 miles, fresh water ponds with fishing allowed on a catch and release basis, public restrooms, and several picnic areas. The park also offers environmental education and nature programs led by the on-site Park Naturalist.
Roaring Point Park – Roaring Point is a beautiful park tucked quietly away along the Nanticoke River, Maryland, secluded by dense trees and wildlife. The park is located about 30 minutes from Salisbury via Nanticoke Road. A short path through the wooded area leads to a .8 mile stretch of beach with a picturesque view of the lower Nanticoke River as it widens to reach the Tangier Sound and Chesapeake Bay. Roaring Point is well known as a good fishing and crabbing spot by the locals, thanks to its location on the river and its long, rocky jetty that extends far out into the tide. The park is also a good spot for a peaceful walk through the woods or a stroll along the beach. And it's a great place to bring young children in the summer to play in the sand and splash in the calm, shallow water of the Nanticoke River. Parking availability and space is limited in capacity.  Early arrival is recommended, as spaces fills quickly.
Tyaskin Park – Located about 15 miles from Salisbury, Tyaskin Park is tucked away at the end of Tyaskin Road on the Nanticoke River. The park has a picnic pavilion at the water's edge, a small beach area which provides water access, and a large pier perfect for fishing or crabbing.
Supplies and Equipment Rentals
Delaware
Sussex County
Bethel
Recreational Opportunities
Hunting and Fishing
Blades
Recreational Opportunities
Laurel
Recreational Opportunities
Hunting and Fishing
Supplies and Equipment Rentals
Seaford
Recreational Opportunities
Hunting and Fishing
Supplies and Equipment Rentals